CONFLICT RESOLUTION

Click here to listen to this sermon.
Philippians 4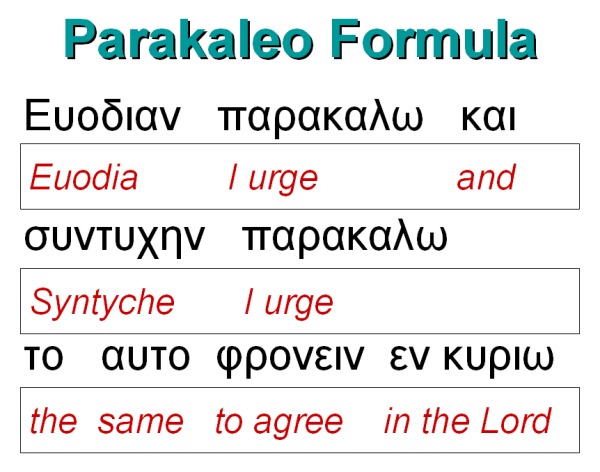 Parakaleo Formula
Therefore + parakaleo ("I urge") + addressed person(s) + infinitive verb = purpose of letter
Examples of Formula
Romans 12:1 - Therefore I urge you, brothers, in view of God's mercy, to offer your bodies as living sacrifices
1 Corinthians 4:16 - Therefore I urge you to imitate me.
Ephesians 4:1 - I urge you to live a life worthy of the calling you have received.
1 Peter 2:11- I urge you, as aliens and strangers in the world, to abstain from sinful desires, which war against your soul.
Who Are They?
Euodia – Good Luck
Syntyche – Fortunate or Success
They were "fellow workers" with Paul and others.
They "contended at his side"
Influential in the congregation
The Loyal Yokefellow
Paul's wife (Lydia?)
The husband or brother of either Euodia or Syntyche
Epaphroditus
Timothy
Silas
Luke
Christ
The bishop of Philippi
A proper name - Syzygos
Paul and Philippians
They were the only church to support Paul in his mission to Macedonia
Team talk – "synathlein" (v. 3)
Unity talk – Shared in support and shared in troubles (v. 14)
Unity
Is it a spirit and attitude?
Is it a plan or movement?
Story of the 1832 Union in Lexington, Kentucky
Chris Benjamin
West-Ark Church of Christ, Fort Smith, AR
Evening Sermon, 24 February 2008
---

 Link to next sermon

 Link to other sermons of Chris Benjamin