CURE
Compassionate Utilization of REsources

created and led by Robert Fisher, M.D.
---
CURE Overview for 2009
During the year of 2009, CURE traveled 39,900 miles picking up and delivering linens, medical supplies, equipment, clothes, food and toys. Fuel cost $11,188.00.
Here is an overview of where those 39,900 miles took us:
CURE supplied enough medical equipment and supplies, to organizations that ship overseas, to load fifteen forty-foot cargo containers.
Picked up 51,200 lbs. of linens from Superior Linen, Muskogee, OK.
Loaded and shipped 24 pallets of supplies to the 287th Special Army Group in Iraq for delivery to the people in need.
Provided hospital linens for a recovery room in San Raymundo, Guatemala.
Loaded a 53-foot trailer of equipment and supplies for Rick Caywood Ministries in Crawford, Texas. Supplies going to Mexico.
Sent hospital linens to a children's orphanage, hospital and clinic in Mexico.
Took 10 pallets of equipment to Fort Dodge, Iowa, for a medical mission going to Guatemala.
Loaded a 40-foot container for disaster relief in American Samoa.
Sent operating room equipment to Cross Ministries for hospital in Haiti.
Took 6 pallets of linens to Torch Bearers Ministries in Branson, MO for shipment to Cameroon, West Africa.
Took 2 truckloads of disaster relief supplies to Mena, AR.
Took 1 pallet of linens to Carthage Crisis Center in Carthage, MO.
Supplied Water Gardens Homeless Shelter in Joplin, MO with 970 items of linen.
Sent 9 boxes of hospital linens to Critical Care Cancer Hospital in Fiji.
For 21 weeks, CURE has shipped two cases per week of hospital linens to a Chinese orphanage. This is an ongoing project with FedEx providing the free shipping.
Provided Good Samaritan Clinic in Fort Smith with special microscope and exam table.
Packed three gaylord boxes with surgical supplies for Jim Wilson's medical mission in Kenya, Africa.
CURE stores the food for the church pantry.
Maintains truck & trailer for inner-city work for West-Ark Church of Christ.
Picked up clothes, shoes, and toys for The Hope Chest.
Supplied blankets for The Hope Chest.
CURE loans equipment to members of the church and the community who need equipment, such as hospital beds, walkers, crutches, wheelchairs and power generators.
CURE wants to say "Thanks" for your support, work, encouragement and most of all for your prayers. To date, CURE has helped the needs of people in 39 countries worldwide. May God receive all the glory, honor and praise as we work together to do what God created us for, "Good Works."
---
What is CURE?
CURE (Compassionate Utilization of REsources) is a tax-exempt, non-profit corporation formed in 1996 for charitable purposes.

Response to needs created by the April 1996 tornado in the Fort Smith, Arkansas, area resulted in the formation of CURE for continuing regional crisis or disaster relief, support of medical missions and other activities providing for those in need. CURE was formed to tangibly exhibit the Spirit and love of Jesus Christ, as protrayed in the New Testament, to our neighbors in need.

CURE accepts financial and material contributions or donations useful for its support and relief efforts from individuals, businesses and organizations. It relies upon the volunteer efforts and services of individual Christians for the considerable hours required to pick up, load/unload, sort, pack, warehouse, administer, coordinate, deliver, distribute, etc., these materials.



Who Is My Neighbor?
When the young lawyer (Luke 10) asked Jesus, "Who is my neighbor?" Jesus responded with the parable of the Good Samaritan. He then asked the young man, "Who was neighbor to the injured man?" He replied, "The one who showed him mercy." Jesus then said to him (and to us), "Go and do likewise." This commandment is what CURE is all about.



Disaster Relief
CURE is a warehousing and sorting operation that creates stock piles of staple foods, bedding, and household supplies, which can be trucked or shipped to areas of need in times of disaster.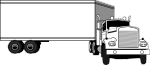 These supplies are delivered to a local church of Christ (or other appropriate organization), thereby supporting the work of the local church.

In addition to the April 1996 relief effort, CURE has responded to six other tornado sites within Arkansas and Oklahoma. Although its regular disaster relief program is regional, CURE has also provided aid to a number of churches in response to Hurricane Mitch.

Other types of aid have also been undertaken, including providing local school children with supplies and, since early 1998, providing food and clothing for needy in the Fort Smith area in participation with the West-Ark Church of Christ Inner City Ministry.



Medical Mission Supplies
CURE acquires medical supplies and equipment for medical mission efforts throughout the world. Such shipments have been made to Guatemala, Guyana, Nicaragua, Nigeria, Bulgaria, Romania, and India. Materials are assembled in accordance with the guidance of medical professionals and others experienced in such field operations.

These materials are made available to the mission team for shipping to the desired destination. CURE hopes to encourage additional medical missions by making supplies and equipment available to churches or church members lacking access to adequate aid.
Call On CURE
To request disaster relief assistance
To obtain medical supplies or equipment for medical mission efforts
To make donations of funds or materials
To identify potential sources of free or low-cost medical or household supplies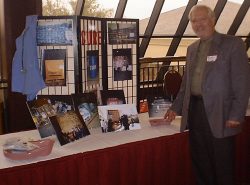 Dr. Fisher with display in Dallas on 8 January 2000
CURE Overview for 2008
Overview for 2008 During the year of 2008, CURE made 67 trips, traveling over 31,000 miles -- picking up and delivering linens, medical supplies, equipment, clothes, food and toys.
Here is an overview of where those 31,000 miles took us:
CURE supplied enough medical equipment and supplies, to organizations that ship overseas, to load seventeen forty-foot containers.
Picked up 49,400 lbs. of linens from Muskogee, OK, between April & December.
Sent 371,000 doses of antibiotics to China and Myanmar to help earthquake & hurricane victims.
Took blankets and linens to McDonald County Disaster Relief in Neosho, MO.
Took blankets & work gloves to Atkins, Clinton, Mountain View & Cherokee, AR after the tornado.
Supplied 9,000 lbs. of food to the Clearinghouse.
Picked up 820 pairs of new men's work shoes in Roanoke, AL, for distributions at The Hope Chest.
Took 1,500 blankets to Sugar Land, Texas, and 30,000 lbs. of food, linens and blankets to Baytown, Texas, to assist hurricane victims.
Sent blankets and linens to an Indian Reservation Clinic in Montana.
Shipped 1 pallet of general medical supplies & 11 pallets of blankets to North Korea.
Picked up clothing for The Hope Chest.
Collected and stored toys for the Christmas giveaway at The Hope Chest.
A 1200 square foot climate/temperature control room was constructed within the Vicksburg warehouse. All construction was done by CURE volunteers. The purposes and uses of the "climate control" room are as follows:

Storage of medication and supplies that must be kept within a specified temperature range.
Storage of food supplies for West-Ark Church panty and for Hope Park.
Provide a comfortable environment for volunteers to help sort and pack linens and medical supplies year round.

The cost of materials to construct the climate control room was provided through a discretionary fund for one-time donations to worthwhile projects.
**C.U.R.E. NEWS**
September, 2007

Since CURE was organized in 1996, supplies and equipment have been shipped to 26 different countries. Here's what CURE has been doing during the past three months.
CURE has taken enough supplies and equipment to Judsonia Church of Christ and Cloverdale Church of Christ to fill 3 containers going to the Ukraine, Honduras and Sudan.
CURE has taken enough supplies and equipment to Lakeside Church of Christ in Columbus, MS to fill a container going to Honduras.
Picked up 6 truckloads of supplies and equipment from 4 different cities in Iowa.
Picked up a load of hospital beds and wheelchairs in Harrison, AR.
CURE continued to support Inner City monthly meals and West-Ark grocery program.
Picked up clothing in McAlester, OK; some will go to The Hope Chest, and the remainder will go to Sudan and Honduras.
CURE made 4 pick ups of supplies & equipment from Sparks Hospital.
Picked up clothing from Columbus, MS and Highland Street Church of Christ in Memphis for The Hope Chest.
CURE supplied baby food, juice, and other items for The Hope Chest.
Donated children's books to Hope Church of Christ to be given out in a Fair Booth as outreach.
CURE loaded one container out of Fort Smith going to Honduras. The Honduran Government is very cooperative and receptive of all the much-needed supplies and equipment being sent to their country. The Government even provides for the shipment of some of the containers.
CURE picked up a truckload of physical therapy equipment and exam table in North Little Rock.
On return trip from Judsonia, CURE picked up equipment and supplies from Saline County Hospital in Benton and Arkansas Heart Hospital in Little Rock.
In addition to the loading and unloading of trucks and the Honduras container, CURE has had one work night at the Vicksburg warehouse. More work nights will be scheduled since cooler weather is on its way.
Thanks to all of the volunteer workers for your prayers and support.
For additional information contact Dr. Robert Fisher.
CURE
P.O. Box 621
Fort Smith, AR 72902
(479) 441-5475
---