[e-mail]
Date: Fri, 19 Oct 2001 12:17:32 -0400 (EDT)
From: JhnHndly@aol.com
Subject: Renewal of French work

Dear church Family,

Well I got here and have been very busy getting reinstalled into things. Our new students arrived this week and we took them into the mountains for orientation week.

Some are second year students and I will have the responsibility of setting them up in advanced courses and working with them on individual Christian service projects. We are getting good news from last year's class, that they are taking hold in their former congregations, teaching classes, and starting midweek classes, and midweek prayer meetings in homes. It is very difficult to get European churches to meet more than once on Sunday, but these kids are doing what they have been taught. Our missionary journey this year will be to Madagascar in January. I didn't even know they spoke French there.

My work this year will be teaching about eight hours per trimester in Old Testament and working with the second year students in advanced studies. For the church, I will teach Bible Studies in homes across the city on Thursday afternoons, greet visitors and study with them as needed. We have many walk ins every week from the design of our new Chapelle de Fuveau. I will fill in preaching when the regulars are on trips of which they take a lot.

My health is good. I just about have my strength back. And have lost a little weight from walking everywhere. These kids will run the pounds off of you trying to keep up with them. I will go to the clinic here after November 22, my three month point, for my next PSA test. Lord willing it will be down. Pray for this. We may come home for the Christmas holidays and some of January if the tickets are cheap. They usually are at that time.

I'm sorry to just now be getting this off, but I just got on line today. My new computer didn't log on and I had to keep taking it back downtown, which was no small feat on the metro. Please let me hear from you. Note my new e-mail address. Please, someone print this out and give it to my father as he doesn't do e-mail.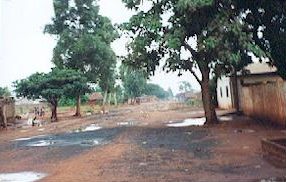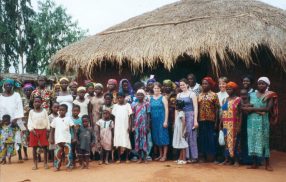 I will send some pictures of last year's mission trip to Togo, West Africa, [see above] and of the presentation of the new students to the congregation, and they presented me also with the faculty. It feels good to be teaching on a faculty again, especially in the Lord's work. These kids really want to be here as they raise all their money from savings, family, congregations, or anyone they can beg it from.
The Lord bless you for bearing with me in my illness and helping us get here. Pray that it doesn't come back. Ruby Lee should arrive November 1st, as she is in Canada visiting her aged mother. They have a place for her teaching children when she gets here.
John Paul