WATCH THIS 11 MINUTE VIDEO ABOUT OPERATION GUYANA.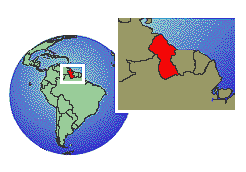 Guyana Medical Mission Teams
of West-Ark Church of Christ
1991-2010
1-9 June 1991, Canal Number Two, 1300 patients, 52 baptized
6-14 June 1992, DeKenderen Plantation, 1663 patients, 120 baptized
19-27 June 1993, Enmore, 1407 patients, 61 baptized
11-19 June 1994, Leonora, 1600 patients, 56 baptized
3-11 June 1995, Leonora, 1925 patients, 42 baptized
1-9 June 1996, Leonora, 1979 patients, 37 baptized
7-15 June 1997, Bagotville, 2068 patients, 51 baptized
6-14 June 1998, Bagotville, 2210 patients, 63 baptized
5-13 June 1999, Bagotville, 1661 patients, 31 baptized
3-11 June 2000, Plaisance, 1786 patients, 64 baptized
9-17 June 2001, Bagotville, 1997 patients, 49 baptized
1-9 June 2002, Canal Number Two, 893 patients, 23 baptized
7-15 June 2003, Canal Number Two, 684 patients, 16 baptized
5-13 June 2004, Stewartville, 1010 patients, 20 baptized
4-12 June 2005, Stewartville, 878 patients, 21 baptized
3-11 June 2006, Nismes, 805 patients, 12 baptized
2-10 June 2007, Stewartville, 852 patients, 23 baptized
31 May - 8 June 2008, Kitty, 554 patients, 28 baptized
6-14 June 2009, Canal Number Two (and Sophia), 626 patients, 22 baptized
5-13 June 2010, Melanie, 1055 patients, 24 baptized
      Guyana is an English-speaking nation, about the size of Idaho, located on the northeast shoulder of South America. Called British Guiana until 1966, this tropical country can be reached after about 15 hours air travel from Fort Smith via Miami. The population of 700,000 is primarily composed of descendants from India (51%) and Africa (43%). The people of this developing nation earn an average income of around $200 per month. The Hindu and Moslem religions are widely practiced.

      Fourteen American Christians arrived in Guyana the day after Thanksgiving in 1983 where they began personal Bible studies with 200 World Bible School correspondence students. By the close of that campaign, 51 had obeyed the Gospel. A preacher training school was established in the capital city of Georgetown in 1985. In the late 1980's, Partners In Progress, a mission project of Sixth & Izard (now Windsong) Church of Christ in Little Rock, Arkansas, began conducting one-week, evangelistic medical clinics in Guyana with astonishing results. Since 1992, Steve DeLoach, of Springdale, Arkansas, has lived in Guyana several months of each year and makes the arrangements for various mission teams to work there. Today, there are over 100 congregations of the Lord's church in Guyana.

      West-Ark Church of Christ sent evangelistic health care teams to Guyana, South America, every year between 1991 and 2010, thanks to the assistance of Partners In Progress and Operation Guyana. There were 159 Christians from West-Ark who served as Bible teachers or health care workers in the medically under-served villages of Canal Number Two, DeKenderen Plantation, Enmore, Leonora, Bagotville, Plaisance, Stewartville, Nismes, Kitty and Melanie. Each team member was responsible for raising his or her own support for the expenses of the mission trip. All medications dispensed at the clinics were acquired from numerous sources at minimal or no expense and packed by our teams. Our typical team was composed of about 40 Christians, with many joining us from other congregations, including Roland and Tahlequah, Oklahoma, and Mayfield, Kentucky. We noted increasing participation by Guyanese Christians in assisting with Bible teaching at our annual clinics.
Our medical clinics were evangelistic in the sense of turning the attention of unbelievers to the Gospel by which they could be saved.
      At each of our clinics, all patients waiting to see a doctor, dentist, or eye specialist were offered one-on-one Bible study. Most agreed to study with one of our personal workers. Each patient was treated with the same kindness and respect whether they studied the Bible or not. A spiritual and evangelistic approach was continued by the doctors, dentists, nurses, and pharmacists. VBS-style classes were conducted in nearby public schools by West-Ark teens and adults. Gospel sermons were presented by Roy Dunavin each evening. Our teams provided health care for 26,953 patients. Our Bible studies in Guyana resulted in 815 baptisms.

      These trips were made possible through the generous contributions of West-Ark members and friends.

Read annual West-Ark team leader reports of Guyana mission trips:
1991
1992
1993
1994
1995
1996
1997
1998
1999
2000
2001
2002
2003
2004
2005
2006
2007
2008
2009
2010

 View enlarged photo of Leonora clinic site.

 View enlarged photo of Bagotville clinic site.

<! The current time in Guyana is> <! IMG ALIGN=top SRC='http://www.cybersys.pp.se/cgi-bin/cybersys/Count.cgi?dd=D|ft=4|frgb=255;0;0|timezone=GMT-0400|tformat=12|display=clock'>
Check the weather in Georgetown, Guyana.

Listed below are the West-Ark Christians who have served in Guyana followed by the year(s) of participation. (Some have moved to other cities since their first trip.)
Don Abernathy, R.Ph. (1995, 1997, 1999, 2001)
Donnie Abernathy (1995)
Reynda (Pratt) Allen (1997)
Kate Allison (1995, 1996, 1997)
Clayton Amos (1991, 1992, 1993, 1994, 1996)
Christy Anders, R.N. (2005)
Sandra Anderson (2008, 2009, 2010)
Larry Armstrong, D.O. (2002)
Jay Arnold (1999)
Todd Bauer (1995)
Britney Beard (1996, 1997, 1998)
Pat Beard (1996, 1997, 1998)
Jeana Belote (1997)
Donna Beneux (1994)
David Berger (1998)
Eric Berger (2009)
John Berger (2001)
Sandy Berger (1997, 1998, 1999, 2001, 2005, 2009)
Ashley Blasdel (2007)
Azia Blasdel (2005, 2006, 2007, 2009)
Michael Blasdel (1993, 1994, 1995, 1996, 1997, 1998, 1999, 2000, 2002, 2004, 2005, 2006, 2007, 2008, 2009)
David Boozer (2001)
Steve Breedlove (2000)
Gary Brown (1994, 1996, 2000, 2002)
Marshall Brown (1995)
Sarah (Hannah) Brown (1993, 1994)
Kevin Bullard (1992, 1993, 1994)
Richard Bullard (1999, 2000, 2001, 2002, 2003, 2004, 2005, 2006, 2007)
Shirley Bullard (1999, 2000, 2001, 2004, 2005, 2006, 2007)
David Burns (2000)
Josh Cantwell (1993)
Heather (Wilson) Carroll (1992, 1993, 1995)
Janet Cathey (1998)
Jane Choate (1998)
Suzanne (Monk) Clark (1997)
Jeff Cohu (1996, 2000, 2002)
Jeannie Cole (1992, 1993, 1994, 1995, 1996, 1997, 1998, 1999, 2000, 2001, 2002, 2003, 2004, 2006, 2007, 2008, 2009, 2010)
Louise Cole (2003)
Michael Cole, M.D. (1991, 1992, 1993, 1994, 1995, 1996, 1997, 1998, 1999, 2000, 2001, 2002, 2003, 2004, 2005, 2006, 2007, 2008, 2009, 2010)
Steven Cole (1995, 1996, 1997, 1998, 2003)
Rhiannon (Edwards) Corley (1999, 2000)
Olen Craig (1991)
Kendra (Parker) Cutsinger (1997)
Nick Dalton (2009)
Harold Davis (2000)
Kevin Davis (2000)
Felicia (Wilson) Dennis (1992, 1993, 1996, 1997, 1998)
Debbie Dewbre, R.N. (1995, 1996, 1997)
David Dickey (1996, 1997, 1998, 1999, 2000, 2004)
Jenna Dickey (2004)
Sean Doyle (2001)
Susan (Tygart) Doyle, R.N. (2000, 2001)
Brent Dunavin, D.D.S. (1994, 1995, 1996, 1998, 1999)
Joyce Dunavin, R.N. (1991, 1992, 1993, 1994, 1995, 1996, 1997, 1998, 1999, 2000, 2001, 2002, 2003, 2004, 2005, 2006, 2007, 2008, 2009, 2010)
Roy Dunavin (1991, 1992, 1993, 1994, 1995, 1996, 1997, 1998, 1999, 2000, 2001, 2002, 2003, 2004, 2005, 2006, 2007, 2008, 2009, 2010)
Kathy Edwards (1999, 2000)
Ted Edwards (1999, 2000, 2001)
Carol Ezell (1995)
David Ezell (1995)
Dean Ezell, M.D. (1995)
Sarah Ezell (1995)
Jacob Faries (1996, 1997)
Beth (Craig) Felty, R.N.P. (1997, 1998)
Raina (Balch) Finley (1999)
Jane Fisher (1993, 1994, 1995, 1999)
Robert Fisher, M.D. (1993, 1994, 1995, 1996, 1997, 1998, 1999, 2001)
Beth Frederick (2007)
Leslie Frederick (2007)
Colleen Frost (2004, 2005, 2006, 2007, 2008, 2009)
Jessica Frost (2008, 2009)
Shelley (Shirley) Frost (1994)
Rupa Gootam (1992, 1993, 1994, 1998, 1999, 2001)
Gary Green (1998, 2000)
Judy Green (1998, 2000)
Mat Griffin, R.Ph. (1996)
Melinda Griffin (1997)
Janet Grimes, R.N. (1991, 1992, 1993, 1994, 1995, 1996, 1998, 1999, 2001)
Natalie Grovenburg (1997)
Donna Hannah (1994, 1999, 2000, 2001)
Jim Hardin (2004, 2005, 2006, 2007, 2008, 2009)
Vicki Hardin (2003)
Jeremy Harper (1996)
Mitch Harper, D.D.S. (1998, 1999)
Robin Harper (2004)
Jim Harris (2010)
Aaron Henderson (1995, 1996, 2001)
Christy (Cathey) Hesslen (1991)
Treva Hill (2009)
Connie Hixson (2007, 2008, 2009, 2010)
Rebecca Holloway (2002)
Liz (Cathey) Huff (1991, 1992, 1993, 1995, 1996, 1998)
Julia (Henderson) Hughes (1995, 1996, 1997)
Missy (Blasdel) Isakson, L.P.N. (1996, 1997, 2000, 2001, 2002, 2004, 2005, 2006, 2007, 2008, 2009, 2010)
Jean Jackson (1995, 1996)
Nick Jackson (1995, 1996)
Gary James (2001, 2003)
Nancy James (2001, 2002, 2003, 2004, 2005, 2006, 2007, 2008, 2009, 2010)
Loy Johnson (1995, 1997)
Bart Jones (1996, 1997, 1998, 1999)
Matthew Jones (1999, 2000)
Seth Kleman (2008)
Donna Larey (1996, 1998)
Keith Larey (1995, 1996, 1998)
Ron Lenderman (1993)
Glenda (Hodnett) Lewis (1994, 1995, 1996, 1997, 1998, 1999, 2000, 2001, 2002, 2003, 2004, 2005, 2006, 2007)
Jack Lewis (2003, 2004, 2005, 2006, 2007)
Meagan (Canfield) Logan (1993, 1994, 1995)
Amy Mason (1996, 1997, 1999)
Kathy Monk, R.N. (1992, 1997, 1999, 2001, 2002)
Angelique (Cole) Moses (1995, 1996, 1997)
Darrell Moses (1998, 1999, 2000, 2001)
Greg Moses (1997)
Robertta Moses (1998, 1999, 2000, 2001, 2003, 2004)
Meagan (Turpin) Mullins (1996, 1998)
Tami (Brown) Myers (1991, 1992, 1993, 1995)
Wendell Needham (1993, 1995, 1996)
Bob Null (1994, 1997)
Leah (Fisher) Omen, M.D. (1995, 1996)
Terry Overbey (1995, 1996, 1997, 1998)
Ben Pearson (1992)
Sandy Pearson, R.N. (1992)
Charlotte Pinedo (2001, 2002, 2003, 2004, 2005)
Brad Pistole (1995, 1996, 1997)
Yvonne Pistole (1995)
Pam (Flippo) Rhodes, R.N. (1991, 1992, 1993, 1994, 1996, 1997)
Jason Roark (1996, 1997)
Brian Robbins (2008)
Tyler Robbins (2008)
Jill Roberts (2003, 2004)
Larry Roper (1998, 1999, 2000, 2001, 2005)
Wes Roper (1997, 1998)
Trenton Schien (2009)
Ashley Scott, L.P.N. (2008)
Pam Shearer (1992)
Kenny Simpson (1997)
Sara (Word) Sisemore (2001)
Jeff Sorrells (1992, 1993, 2000)
Niketa Stinchcomb (2005, 2006, 2007, 2010)
Daniel Tignor (2008)
Julie Tignor (2008)
Jay Trotter, R.Ph. (1991, 1992, 1993, 1994, 1995, 1996, 1997, 1998, 2000)
Leanne Trotter (1995, 1996, 1997)
Lindsay Trotter (2001)
Shelley Trotter, R.N. (1998)
Lindsay (Cantwell) Warren (1994, 1995, 1996)
Brad Wheeler (1995)
Cindy Wheeler (1995)
Bailey Williams (2007)
Rennie (Henderson) Williams (1995, 1996)
Irene Willis (2001)
Mark Willis, D.D.S. (1995)
Bill Wilson (1995)
Brenda (Needham) Wilson (1993, 1994, 1995, 1996, 1999, 2000, 2001)
Deborah Wilson, R.N. (1992, 1993, 1995, 1996, 2001)
Jim Wilson, D.O. (1995, 2001)
Daniel Word (2001)
James Word, M.D. (1991, 1992, 1993, 1994, 1995, 1996, 1997, 1998, 1999, 2000)
Doyle Wright, Med. Tech. (1991, 1992, 1994, 1995, 1996, 1997, 1998, 1999, 2000)
Judy Wright, R.N. (1991, 1992, 1994, 1995, 1996, 1997, 1998, 1999, 2000)