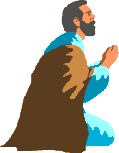 TIME - Jesus Made Choices
WINGS Lesson by Judi Green
March 23, 1999
I am really excited about these lessons on "Daily Time With God." It is good to be able to share a short devotional with you. First of all, when you think of your days and your "time," how do you feel? Blessed, grateful, peaceful, hurried, fearful, frantic, or a mixture of all of these? When we are transformed, when our minds are renewed in God's word, how would God have us be?
This morning I want us to look to our best example of one who
obeyed God,
lived His life with unwavering direction and peace.
You can guess who this is – JESUS!
Jesus made choices regarding how to spend his time each day. We make choices as well. This morning, in this lesson, I want to encourage us to imitate Jesus in all areas of His life.
John 13:13 says "Jesus knew the Father had put all things under his power, and that he had come from God and was returning to God…" Jesus KNEW where he had come from and where he was going. Shouldn't we have the same confidence and direction today?
LET'S LOOK AT JESUS' LIFE
We can describe Jesus as loving, holy, perfect, etc. Because of our lesson topic, I want to study what He DID, how He chose to spend His daily time. I want you to remember your childhood stories of Jesus and tell me what you remember of Jesus' ACTIONS during His three years of ministry– how He "spent" his daily time.
He healed the sick, fed the hungry, taught lessons about God, taught His disciples, prayed, and many more things. Jesus did many good things. Jesus seemed to live His life serving others. How did He manage to do this without wearing out and falling apart? Let's look at His life a little closer. Jesus had to make choices among the good things. There are more service opportunities than we can possibly fulfill in one life-time.
Let's look at Mark 1. Please read very carefully to find the different types of activities Jesus chose to do. I think there are four types. Let's see what you notice.
Did you notice these four different choices Jesus made in Mark 1? (1) Jesus calls His disciples to follow Him and He will make then fishers of men, (2) next Jesus drives out an evil spirit, and then heals many. The third choice appears in verse 35 -"Very early in the morning, while it was still dark, Jesus got up, left the house and went off to a solitary place, where He (3) prayed. Simon and his companions went to look for Him, and when they found Him, they exclaimed, 'Everyone is looking for you!'" Jesus replied in verse 38, "'Let us go somewhere else – to the nearby villages so I can (4) preach there also why I have come.' So He traveled throughout Galilee, preaching in their synagogues and driving out demons." We have (1) teaching disciples, (2) healing and helping, (3) praying, and (4) preaching as Jesus' choices of how to spend His time on earth.
Jesus had to choose how to spend His time. We do too! Sometimes we choose by default. We let things just happen and we have to cope with the results. I don't see Jesus doing that. Also, we are not encouraging laziness, because we do have to account for the use of our talents and time. Jesus made choices and we need to be responsible enough to make good choices of how to spend our lives.
How Jesus Chose to Spend
His "Daily Time" on Earth
| | | | | |
| --- | --- | --- | --- | --- |
| Listened & Learned | Time Alone with God in Prayer | Served the Needy | Taught about Salvation | Trained or "Made Disciples" |
| Jesus' knowledge is evident from the Luke 2 and Matthew 4 passages | Mark 1:35 | Mark 1 | Mark 1:38 | Mark 1 |
(More complete charts are included at the end of the lesson.)
Analyze five areas of Jesus' life…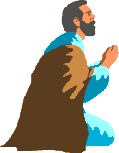 He listened and learned (Study).
He spent time alone with God, praying.
He served physical needs.
He served spiritual needs by teaching.
He trained others and "made disciples."




Is it possible that power, to do good things, comes from the time spent with the source of power – GOD!

We often talk about the things we do and the things we need to do to serve God. Do we consider that spending time with Him will give us the power to do those good things?

I think I Peter 4:7-11 is very encouraging to the child of God.
"The end of all things is near.
Therefore be clear minded and self-controlled so that you can pray.
Above all, love each other deeply, because love covers over a multitude of sins.
Offer hospitality to one another without grumbling.
Each one should use whatever gift he had received to serve others, faithfully administering God's grace in its various forms.
If anyone speaks, he should do it as one speaking the very words of God.
If anyone serves, he should do it with the strength God provides, so that in all things God may be praised through Jesus Christ.
To him be the glory and the power for ever and ever. Amen."
Let's see, serving with the "STRENGTH GOD PROVIDES." God provided Jesus with the power to live a life pleasing to Him. Let's imitate Jesus!
Look at the chart again with Jesus' choices of how to spend His time.
We see over and over in the Gospels how Jesus took his 12 followers and trained them to go teach the world. Sometimes I think we don't realize the importance of training one …. One friend, one child … and teach them their responsibility to teach others ….
Those of us who have children at home or grandchildren could plan ways to take them to serve others, explaining WHY this is being done – to the glory of God. All of us could take someone with us to visit people in the hospital, or widows. Or we could encourage each other to spend daily time with God.
In conclusion, this lesson was directed to those who are in a saved relationship with God. Making good choices about spending time with God and serving God will help you have peace, energy, and good spiritual health.
However, if you have not committed your life to God, through His Son, Jesus, then I would like to share the gospel with you as soon as possible.
The parable of the day of judgment - do good things, but He never knew them. (Matthew 7:22-23.) We must commit to God and love Him with all our heart.
Romans 2:23 tells us we are all sinners. Acts 2:38 tells us that when we repent (change our life) and are baptized, we receive the gift of the Holy Spirit. This Holy Spirit is a Comforter (John 17), who intercedes for us (Romans 8:26) and testifies we are God's children (Romans 8:16).
This "Daily Time With God" lesson is designed to help us access the power of the Holy Spirit and the energy and peace that only God can provide. I hope you can imitate all areas of Jesus' life. I hope you choose to obey God, spend time with God and then spend time serving others physically and spiritually.

More complete charts follow. Feel free to contact me with more scriptures or ideas concerning becoming a child of God or becoming more like Jesus.
---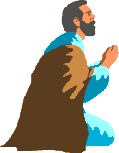 Life Lessons from Jesus
We all have some choice how to spend our "daily time" so let's look at our Savior and learn from Him. "A student is not above his teacher, nor a servant above his master. It is enough for the student to be like his teacher, and the servant like his master." (Matthew 10:24.) Let's ask Jesus be our Teacher.
Listened & Learned

Time Alone with God in Prayer

Served the Needy

Taught about Salvation

Trained or Made Disciples

Luke 2:46 (Jesus was 12 years old & at the Temple) "After three days they found Him in the temple courts, sitting among the teachers, listening to them and asking them questions. Everyone who heard Him was amazed at His understanding and His answers.."

Matthew 4:1-11
Jesus quoted Old Testament scripture to defeat Satan while being tempted in the wilderness -- evidence that Jesus KNEW God's word.

As a Jewish boy, He most likely was raised as Deuteronomy 6 tells parents to do. Training and teaching children…

Matthew 14:23 "He went up on the mountain by Himself to pray."

Mark 1:35 "Very early in the morning, while it was still dark, Jesus got up, left the house and went off to a solitary place, where he prayed."

Luke 6:12 "One of these days Jesus went out to a mountainside to pray, and spent the night praying to God."

Luke 9:18 "Once when Jesus was praying in private…"

Luke 11:1 "One day Jesus was prying in a certain place…"

1. Helped the sick with His many miracles of healing.

2. Helped the hungry
(feeding 4,000 and 5,000)
Matthew 14:15-21
Matthew 15:32-38

3. Helped His mother and others (water into wine) John 2:1-11

4. Death to Life
Lazarus - John 11 Jairus's daughter in Mark 5:22-24
Widow's son at Nain Luke 7:11-15

Mark 1:38 "…so I can preach, that is why I have come." Matthew 4:23, Luke 4:42

"Sermon on the Mount" - Matthew 5

Samaritan woman - Jesus is "living water"
John 4:5-42

Many Parables or Lessons
*Let light shine
Matthew 5:14-16
*Foundation on God
Matthew 7:24-27
*Faith - mustard seed
Mark 4:30
*Talents
Matthew 25:14-30
*Good Samaritian
Luke10:30-37
*Cost of discipleship
Luke 14:25-35
*Friend in need
Luke 11:5-12

"Come follow me," Jesus said, "and I will make you fishers of men." Matthew 4:19 and Mark 1:17

"His disciples came to Him, and He began to teach them, saying …" (Sermon on the Mount) Matthew 5

Foot washing - an example of Jesus serving others and He told them:
"I have set you an example that you should do as I have done for you." John 13:15

Life Lessons for Us
Listen & Learn
(Study)

Pray

Serve the Needy

Teach the Good News - Salvation

Train or Make Disciples

Jesus' example of having scripture in His heart.

"…Be conformed to the likeness of His Son" Romans 8:29

"Study to show thyself approved…"
II Timothy 2:15

Imitate Jesus…
"A student is not above his teacher, nor a servant above his master. It is enough for the student to be like his teacher, and the servant like his master." Matthew 10:24

Acts 17:11 "Now the Bereans were of more noble character than the Thessalonians for they received the message with great eagerness and examined the Scriptures every day to see if what Paul said was true."

Jesus' examples of spending time alone with God.

I Thessalonians 5:17 Be joyful always, pray continually

Ephesians 6:8 Pray in the Spirit on all occasions

Luke 6:28 Pray for those who mistreat you

John 17:20 pray also for those who will believe

James 5:13 One of you in trouble? He should pray

I Peter 4:7 Self-controlled so that you can pray

Philippians 4:6 Do not be anxious about anything, but in everything, by prayer and petition, with thanksgiving, present your requests to God. And the peace of God which transcends all understanding will guard your hearts and your minds in Christ Jesus.

Matthew 25:36
For I was hungry and you gave me something to eat,
I was thirsty and you gave me something to drink,
I was a stranger and you invited me in,
I needed clothes and you clothed me,
I was sick and you looked after me,
I was in prison and you came to visit me.

James 1:27 Pure and faultless religion is to look after orphans and widows in their distress…

Luke 6:35 Love your enemies, do good to them.

I Peter 4:11 "…If anyone serves, he should do it with the strength God provides, so that in all things God may be praised through Jesus Christ."

Matthew 10:7 As you go, preach this message.

Mark 16:15,16 "Go into all the world and preach the good news to al creation. Whoever believes and is baptized will be saved, but whoever does not believe will be condemned."

Matthew 28:19,20
"Therefore go and make disciples of all nations, baptizing them in the name of the Father, and of the son and of the Holy Spirit, and teaching them to obey everything I have commanded you. And surely I am with you always, to the very end of the age."

"Train yourself to be godly…." I Timothy 4:7

"Train a child in the way he should go, and when he is old he will not turn from it." Proverbs 22:7
(Deuteronomy 6)

"Likewise, teach the older women to be reverent in the way they live, not to be slanderers or addicted to much wine, but to teach what is good. Then they can train the younger women to love their husbands and children and to be self-controlled and pure, to be busy at home, to be kind, and to be subject to their husbands, so that no one will malign the word of God." Titus 2:3-5
Judi Green
West-Ark Church of Christ, Fort Smith, AR
Ladies Bible Class, 23 March 1999
e-mail


 Link to Judi's previous Bible class lesson

 Link to Jeannie Cole's Ladies' Bible Class lectures

 Link to WINGS Home Page

West-Ark Church of Christ