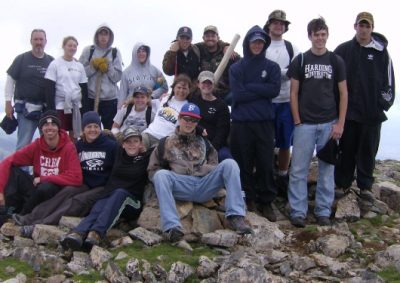 Youth & Family Ministry
Rick Odell
West-Ark Church of Christ
Congratulations to the Senior Class of 2008!
Ashley Blasdel - Pocola
Andrew Brievogel - Southside
Leslie Campbell - Van Buren
Tyler Davenport - Charleston
Leslie Frederick - Southside
Ian Gilley - Northside
Courtney Griffin - Southside
Sarah Hartley - Van Buren
Gary Nolasco - Northside
Venusa Phomakay - Alma
Hannah Pressley - Southside
Ashley Singleton - Sallisaw
Lindsey Smith - Southside
Dawson Urrutia - Union Christian

Senior High Graduates of the Class of 2007
---
"You are the light of the world. A city set on a hill cannot be hidden...." "Let your light shine before men in such a way that they may see your good works, and glorify your Father who is in heaven."  Matthew 5:14, 16

A Shining Light
Teens today are under so much pressure from the world to perform. They feel as if they must meet the demands of their surrounding culture or else fail. However, teens alive for Christ can turn this pressure into something positive as they strive to use their energies to shine for the Lord.
Even as young people we can make a difference in our world. There is no age limit set on being a shining light for Jesus Christ. Teens can be "living images of God's healing truth" to a world that so desperately needs Him.
---
If you attend the Church of Christ and are between age 6 and 18, there is another Christian young person using ChrisCross who wants to become your Pen Pal.

 Discover ChurchFun.com, a Web site just for kids, with games and contests and other cool stuff to do.

 Find lessons for teaching elementary school students at Children's Bible Lessons.

 Even kids can build Web sites with Webmonkey For Kids

 Need help with your homework?

 Explore the  Klutz Cool Stuff

 Visit the WorldVillage KIDZ activity pages and online games.

 Play Name That Candy Bar

 Link to  Entertainment Reviews for Parents

 Link to  Christian Spotlight on Entertainment

 Link to  Adventures in Missions

---

 Email youth minister at:  Rick@WestArkChurchofChrist.org

 Link to  West-Ark Church of Christ Home Page